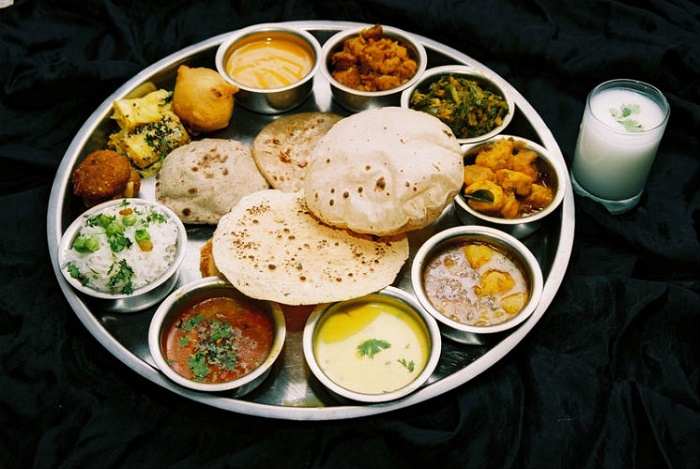 Image Credit: http://hangouts.co.in/wp-content/uploads/2015/07/Veg-Thali-Delhi-011.jpg
Gujarati food originated from Gujarat, the western coastline state of India, often referred to as "Jewel of Western India". Although the long coastline ensures huge variety of seafood, the influence of Jain culture and philosophy makes the region a predominantly vegetarian barring some communities who incorporate non-vegetarian items such as goat, chicken, eggs and seafood in their platter. Gujarati cuisines are not only varied and lip smacking but also high in nutritional value. Different cooking styles and combination of spices are incorporated in preparing different dishes marking uniqueness of each. Traditionally a Gujarati thali comprise of rotli, kadhi or dal, rice, and shaak/sabzi. Some of the dishes are stir fred, while others are boiled. Gujarati food is more often served on a silver platter. Gujaratis use a combination of different spices and flavours to cook their meals and this is what makes their food truly exotic. People in Gujarat eat one or the other type of curry along with rice and roti in almost every meal. Gujarati dishes usually have a very subtle taste that makes it truly distinct from other Indian cuisines. Most of the Gujarati dishes are sweet, while others have a quite larger concentration of sugar as compared to salt and spices. Sometimes, jaggery is used as an alternative to sugar.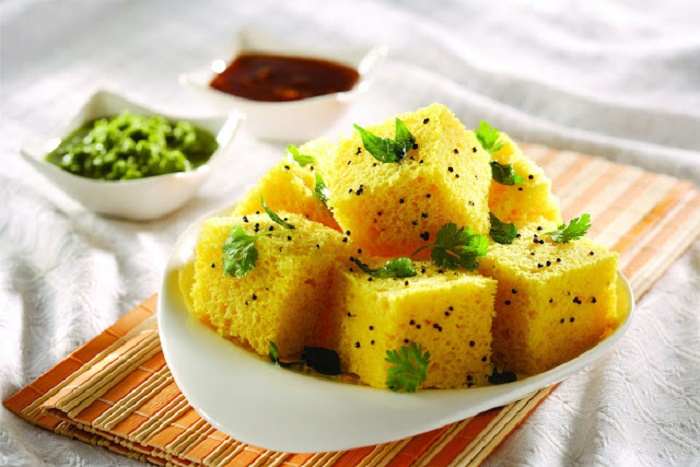 Image Credit:
reshareit.com/wp-content/uploads/Dhokla.jpg
Traditional Gujarati Thali
The Gujarati thali has garnered much fame not only outside the Gujarati diaspora but also beyond the national boundary.  A typical Gujarati thali served as lunch or dinner in households and restaurants consists of an array of selective dishes arranged in a thali or plate. The platter usually consists of rotli or chapatti that is homemade bread; rice; a shaak/sabzi, that is a sweet or spicy dish prepared out of varied combinations of vegetables and spices; and either dal (lentils) or kadhi, a thick gravy made of chickpea flour, yogurt and vegetable fritters known as pakoras. A farsaan (snacks item) such as pathra, dhokla and samosa among others; a dish made of whole beans or pulses; a sweet dish or mishthaan such as jalebi and mohanthal also find place in the platter.     
While the daily meal of the Gujaratis prepared in households which they often refer as dal-bhat-rotli-saak remains simple, special occasions or festivals witness dozens of items in a Gujarati thali including a variety of farsans and mithais or sweet dishes, adhering strictly to the dietary rules regarding combinations of items to be served. For instance when kadhi is served, a dal preparation like mug ni dal or vaal is also served in the platter. The sweet dish for this particular platter would be items like shrikhand or doodhpak that is the ones based on milk or yogurt, but raita although made of yogurt would not compliment such a thali. Sweets like ladoo or lapsi that are wheat-based would find place in festive meals that are dal based.
The varied dishes that can be served in a Gujarati Thali include items like steamed basmati rice; chapati; Gujarati khatti mithi daal that is lentil sweet and sour in taste; bhakhri, a round flat unleavened homemade bread crispy and thicker than rotli; badshahi khichdi, a preparation made of rice and lentils (dal); undhiyu that is a preparation of mixed vegetable cooked with paste of spinach; ringana methi nu shak, eggplant or aubergine prepared with methi or fenugreek leaves; aloo rasila, a thin curry made of potato and tomato; and bhindi sambhariya, that is a ladyfingers curry among others complimented with kachumber salad comprising of freshly chopped cucumbers, tomatoes and onions dressed with curd or vinegar and a varied range of chutneys that is sauces or dips made out of different ingredients.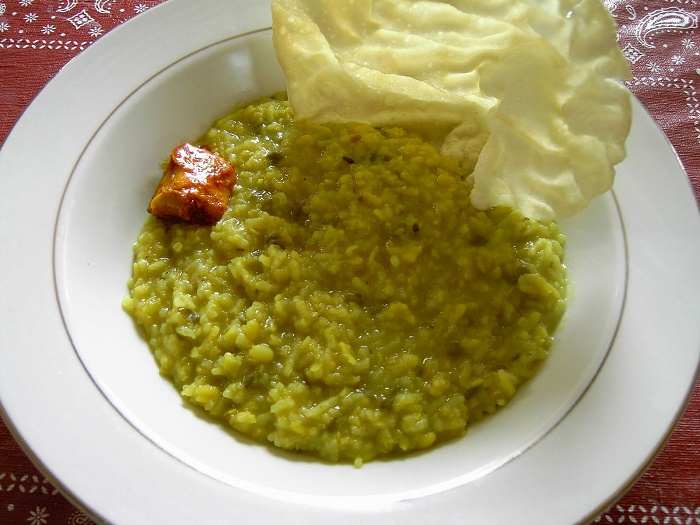 Image Credit: enjoyindianfood.blogspot.in/2010/06/dheeli-khichdi-gujarati-khichdi-2.html
Distinct Features of Gujarati Food
Gujarati cuisines vary in flavour and other aspects with different regions; the most distinct being the ones from Surat, Kachchh, Kathiawad and North Gujarat. Tastes also differ according to choice and preference of families. A bent towards sweeter taste is quite palpable from many of the popular dishes of the region. Traditionally sugar or jaggery is used in preparing some vegetable items and dal which give them a more sweet flavour and offsets the otherwise insipid vegetables. Again some of the dishes taste spicy, salty and sweet at the same time. As the region remains quite hot and dry in summers with temperature soaring to around 50 °C, ingredients like lemon, tomatoes, salt and sugar are used commonly in preparing different dishes to avoid dehydration. The cooking style of Gujarati food is also quite unique. While some dishes are stir fried other are steam-cooked with the vegetables along with spices or dal being boiled and then vaghar (Chaunk) is added to it to enhance flavour of the dish. Vaghar is a cooking technique where depending on the dish a specific combination of whole spices and sometimes other ingredients are fried in ghee or oil following which these ingredients along with the oil is poured in the boiled vegetables or dal. One of the staples of the region is khichdi prepared out of rice and lentils and served with items like pickles and chaas or buttermilk, a yogurt based drink quite popular in different parts of India.
Cuisines of the populace vary round the year with availability of different seasonal vegetables and fruits. For instance, during the summer when mangoes are available, the traditional Gujarati dish 'Keri no Ras' or Aamras usually dominates a Gujarati platter. This dish, which is generally savoured with rotli or pooris, (unleavened roundish deep-fried homemade bread) comprises of sugared fresh mango pulp. 
There is a custom of consuming moong dal on Wednesdays in many Gujarati families. Gujaratis also have the habit of keeping fast regularly with their diet being restricted to dried fruits, nuts and milk. In recent times, the populace has shown a knack towards more fried and spicy items. Although predominantly a vegetarian state, some of the communities consume non-vegetarian items like fish, chicken and eggs. For instance the Kharwa community developed a style of cooking that comprise of fresh as well as dried fish. Some of the seafood usually consumed includes prawns, lobster, pomfrets, crabs and khandwas among others. Many new recipes have emerged from a blend of Gujarati and Western cuisines courtesy modern chefs.   
Commonly Used Spices & Seasonings
Spices play a pivotal role in most of the Gujarati dishes. The spices and seasonings commonly used in preparing Gujarati cuisines includes hardar or havej (turmeric powder), elaichi (cardamom), jeeru (cumin), kothmir (coriander), aambli or aamli (tamarind), kesar (saffron), god (jaggery), kokum (garcinia indica), methi (fenugreek seeds and leaves), pudina (mint), hing (asafoetida), laving (cloves), soonth (ginger powder), lal marchu (cayenne pepper), chaat masala, mitho limbdo (curry leaves), lilu marchu (green chilli) and garam masala ( a combination of spices roasted and powdered). Traditional mixes of different spices used in preparing different Gujarati items are considered to expedite digestion. Again some of the spices or combination of spices are avoided or used in lesser proportions during summer months such as Garam masala and its components.       
A sneak Peak at the Different Items of a Meal
Bhat (Rice)
Rice forms an integral part of a Gujarati thali, however its form may vary. It can be plain rice; a Khatta-mittha bhat that is a rice preparation boiled with spices and potato having a sweet and sour taste complimented with lemon peel; a biranj that is rice seasoned with sugar, dried fruits and saffron; a pulao where rice is prepared with vegetables, and khichdi. A rice pudding called doodhpak prepared by boiling rice with sugar and milk and seasoned with saffron, cardamom, almonds, cashews and raisins usually forms part of dessert in a thali.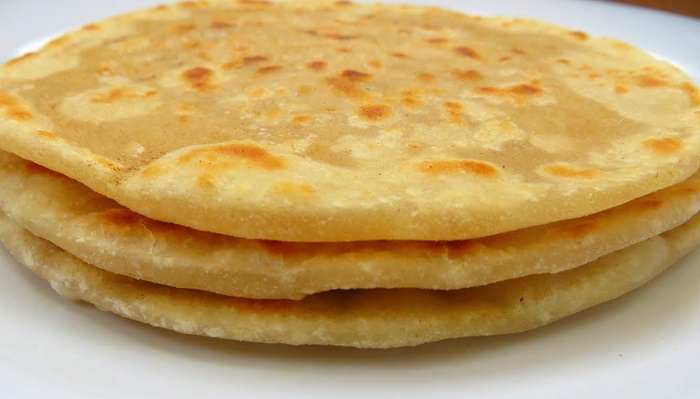 Rotlo (Breads)
There are different types of Gujarati homemade breads made in different styles and they use different flours either singly or in combination. Some of these like puran poli or vedmi, whole wheat bread stuffed with sweet chickpea dal; thepla, bread made of a combination of flours, spices and shredded vegetables; and puri, deep fried bread made of whole wheat flour have earned much popularity even outside the Gujarati community. 
Dal (Pulses)
The items in this category may include moong dal, tuer dal, mix dal, meethi kadhi and kadh.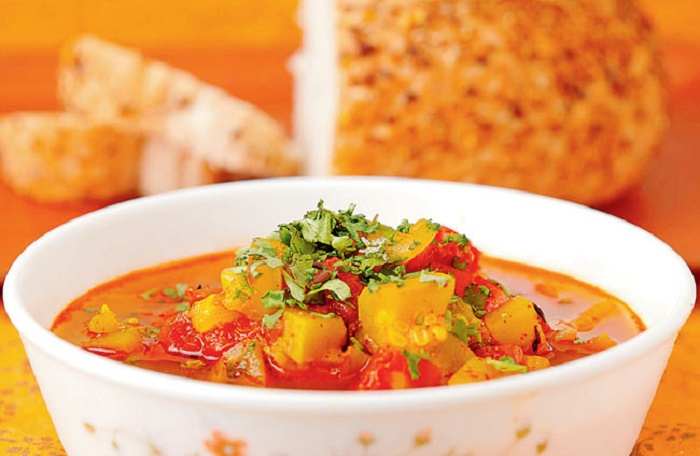 Image Credit: http://images.mid-day.com/images/2014/jan/DUDHI-NU-SHAAK.jpg
Shaak/Subzi (Vegetables)    
The Gujaratis excel in preparing various kinds of luscious as well as exotic vegetable dishes including the stuffed ones. Some of them are batata nu shaak, a potato curry; bharela karela, stuffed dry bitter gourd; chola nu shaak, curry made with black eyed peas; dudhi nu shaak, curry made with bottle gourd; guvar nu shaak, a cluster beans curry; dudhi bateta nu shaak, a curry with potato and bottle gourd; and bhinda nu shaak, a dry okra preparation among many others. 
Farsan (Side Dishes)
The side dishes of a Gujarati meal served with a thali are called farsan and are of varied forms. These can also be consumed separately as snack items. Some of the popular farsans are chaat, a mouth-watering dish prepared with a mix of potato and crispy fried bread flavoured with chutney that is sauce like items, spices, yogurt and coriander; dahi vada that is fried dumplings dipped in yogurt and seasoned with cayenne pepper, cumin and salt; dhokla, a rice flour steamed cake; and kachori, a deep fried ball of dough stuffed with yellow moong dal, ginger, cayenne pepper and black pepper.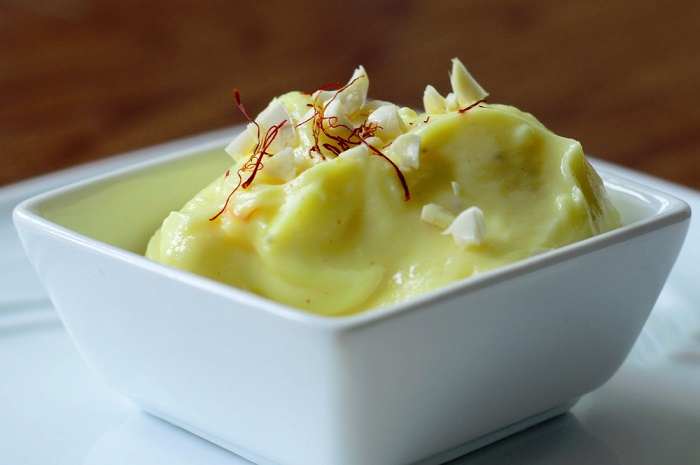 Image Credit:
http://desibidesi.com/indian-recipes/2012/8/23/shrikhand
Mithai (Sweets)
When it comes to sweets, the Gujaratis have a wide variety to offer. These include shrikhand, jalebi, sukhadi, malapua, sutarfeni, keri no ras, ghughra, kansar, son papdi, laddu, kaju katli, gaajar halwa, gulab jamun and the list goes on!  Milk, nuts and sugar are the three main ingredients that are used in preparing different Gujarati sweets. Items like ghooghra and magas are usually prepared during festivals and special occasions like marriage.
Condiments
The condiments that compliment a thali with some even accompanying snacks items include raita, athanu, chutney and papad.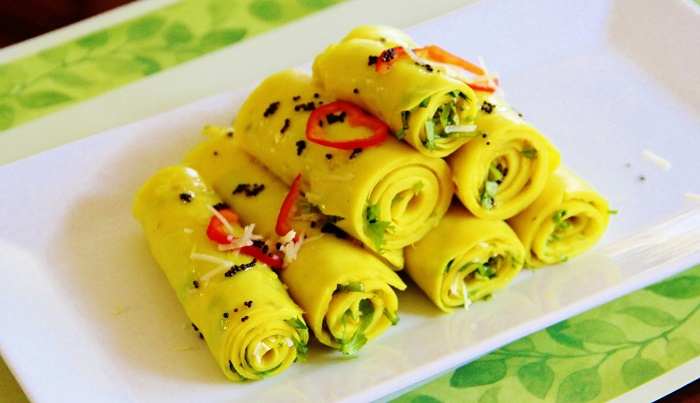 Image Credit: YouTube
Nasta (Snacks)
Many of the farsans are also taken as nasta that includes khandvi which has remained one of the popular Gujarati snacks. Items categorised as nasta are mostly deep fried and prepared out of gram flour. Some Gujarati nasta items are dhokla, khakhra, mathis, chakri, fafda and sev.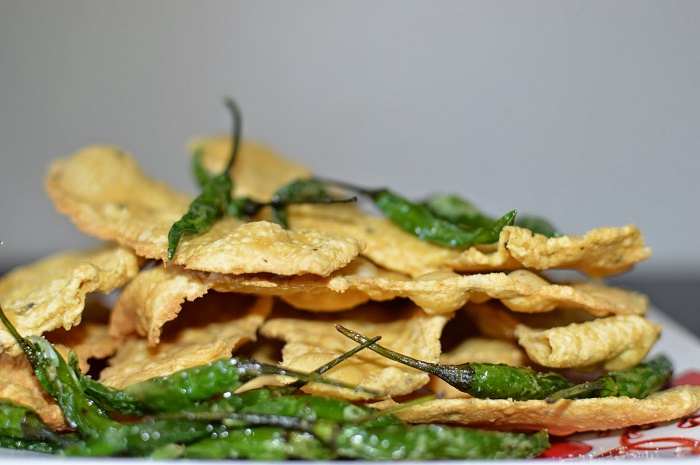 Image Credit:
http://food.sachiskitchen.com/2014/07/fafda-recipe.html 
List of Popular Gujarati dishes
| | |
| --- | --- |
| Breads | Snacks (Nasta) |
| Bajri no rotlo | Chakri |
| Makai no rotlo | Chorafali |
| Bhakri | Fafda |
| Phulka rotli | Ghanthia |
| Juvar no rotlo | Khakhra |
| Parotha | Mathia |
| Puran poli (Also known as vedmi) | Sev |
| Puri | Sev mamra |
| Thepla/dhebra | Lasaniya mamra |
| Pooda (sweet) | Dhokla |
|   | Porbandar khajli |
| Rice |   |
| Biranj | Dal (pulses) |
| Khatta-mittha bhaat (sour and sweet rice) | Moong Dal |
| Doodhpak | Meethi (Sweet) kadhi |
| Khichdi | Kadh |
| Pulao (rice with vegetables) | Tuer dal |
| Khichu | Mix dal |
|   |   |
| Vegetables (Shaak/Subzi) | Mithai (sweets) |
| Bateta nu shaak (potato curry) | Adadiya |
| Bateta sukhi bhaji (dry potato ve) | Jadariyu |
| Bharela bhinda (stuffed dry okra) | Sutarfeni |
| Bharela karela (stuffed dry bitter gourd) | Kansar |
| Bhinda nu shaak (dry okra) | Maisub |
| Vatana bataka nu shaak | Halvasan |
| Chola nu shaak (black eyed peas curry) | Malpua |
| Dhana capsicum nu shaak | Keri no ras |
| Dudhi bateta nu shaak  | Basundi |
| Dudhi chana ni daal nu shaak | Ghari |
| Dudhi ganthia nu shaak (bottle gourd) | Ghughra |
| Dudhi mag ni dal nu shaak | Ghebar or Ghevar |
| Dudhi nu shaak (bottle gourd curry) | Son Papdi |
| Fansi ma dhokli nu shaak | Magas (or Magaj) |
| Fansi nu shaak (dry green bean curry) | Sukhadi |
| Ganthia nu shaak | Mohanthar/Mohanthal (gram flour fudge) |
| Gathoda nu shaak | Gud papdi (Gol papdi) |
| Guvar nu shaak (cluster beans curry) | Ronvelia |
|   | Penda |
| Kadhi | Barfi |
| Kadhi | Ladu |
| Kanda bataka nu shaak | Shiro |
| Karela nu shaak (bitter melon curry) | Ghooghra |
| Kobi bateta nu shaak | Jalebi |
| Mag nu shaak (mung bean curry) | Shrikhand |
| Methi nu shaak (fenugreek) | Lapsi |
| Panchkutiyu shaak | Doodhpak |
| Parwal bateta nu shaak | Shakkarpara |
| Ringan nu shaak (eggplant) | Kopra paak |
| Ringan no olo | Gaajar halwo |
| Sev tameta nu shaak | Dudhi no halwo gur |
| Tameta bateta nu shaak | Kaju katri |
| Tindoda nu shaak (ivy gourd curry) | Gulab jambu |
| Undhiyu | Velan lapsi |
| Vad papadi nu shaak | Beet no halwo |
|   | Condiments |
| Side Dishes (Farsan) | Chutney |
| Dabeli | Raita |
| Bhajiya | Athanu |
| Locho | Papad |
| Chaat |   |
| Dahi vada | Spices and Seasonings |
| Dhokla | Kokum |
| Handvo | Aambli or Aamli (Tamarind) |
| Kachori | Go? (Jaggery) |
| Khaman | Chaat Masala |
| Khandvi | Hardar or Havej (Turmeric powder) |
| Khichu | Kothmir (Coriander) |
| Lilva kachori | Elaichi (Cardamom) |
| Methi na gota (Fried fenugreek Dumplings) | Garam Masala |
| Muthia | Hing (Asafoetida) |
| Pani puri | Jeeru (Cumin) |
| Sev khamani (Khaman topped with crispy, fried gram flour.) | Kesar (Saffron) |
| Vegetable handva | Lilu marchu (Green chilli) |
| Dal vada, Vaati dal na bhajiya | Lal marchu (Cayenne pepper) |
| Makai no dana (Corn chevda) | Methi (Fenugreek leaves and seeds) |
| Khichdo | Phoodino or pudina (Mint) |
|   | Soonth (ginger powder) |
|   | Laving (cloves) |
|   | Mitho limbdo (curry leaves) |