Fast Facts
Date of Birth: 9 October, 1945
Place of Birth: Gwalior, Madhya Pradesh
Birth Name: Masoom Ali Khan
Profession: Sarod player, teacher
Spouse: Subhalakshmi Barua Khan
Children: Amaan Ali Khan, Ayaan Ali Khan
Father: Hafiz Ali Khan
Mother: Rahat Jahan
Awards: Padma Vibhushan, Sangeet Natak Akademi Fellowship, Banga Bibhushan Samman
Ustad Amjad Ali Khan Bangash is an eminent Indian Sarod player. For his great achievements in taking the Sarod places, he is popularly known as the 'Sarod Samrat'. Born into a family of classical musicians and Sarod players, Amjad went on to modify the instrument and often experimented with it, and this helped him outshine many stalwarts. He has taken Sarod to great heights by collaborating with many western musicians. He is also credited with spreading the knowledge about this classical instrument all over the world. Ustad Amjad Ali Khan continues to teach Sarod to students across the globe.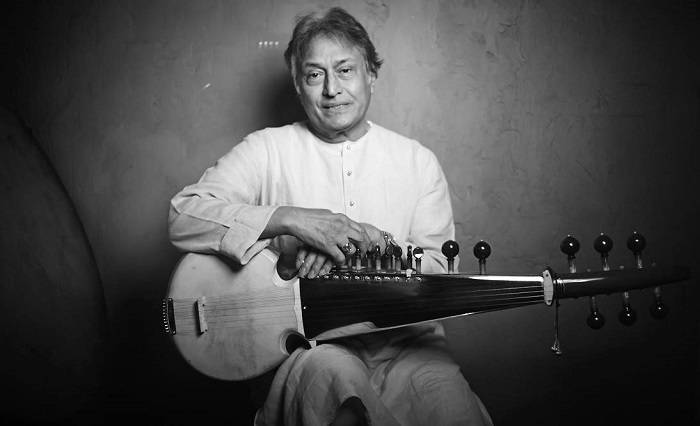 Image Credit:
wikimedia.org
Childhood    
Amjad Ali Khan's ancestors belonged to the Bangash lineage, which has its origin from the Senia Bangash School of Music. It is believed that the Sarod was invented by them, as it is a modification of the Rabab, the ancient folk instrument of Iran. 
Amjad's father, Hafiz Ali Khan, served as a musician in the court of the royal family of Gwalior. Hence, music and Sarod were introduced to Amjad, who was initially named as Masoom, at a very young age. Young Masoom was then rechristened as Amjad Ali Khan by a Hindu saint and he was blessed to become a famous Sarod player, much like his ancestors. It did not take long for the blessing to come true as Amjad went on to become the sixth generation Sarod player of his renowned family. 
Education
Amjad Ali Khan was the youngest son in his family and quite naturally the most pampered as well. He was homeschooled and his first tutor was his father. He started learning to play Sarod from his father at a young age and soon fell in love with the instrument. He continued to learn from his father until 1957, when his family moved to Delhi. It was here that Hafiz's friends made him understand the importance of formal education and urged him to introduce his son to traditional schooling. Based on the advice of well-wishers, Amjad was enrolled as a day scholar in Modern School, and he continued his education there till 1963.
Career
Amjad Ali Khan gave his first solo recital when he was barely twelve years old. His first major performance came at the age of 18 when he mesmerized the audience at a concert in the United States. Since then, the Sarod maestro has never looked back. Apart from working with many Indian artistes, he has collaborated with many foreign bands as well. What makes Amjad Ali Khan stand out from the rest of Sarod players is his ability to teach Sarod. This not only ensures the continuation of his legacy, but also helps thousands of aspiring Sarod players to learn the instrument. After working at the University of New Mexico as a visiting professor, Amjad now teaches at Stanford University.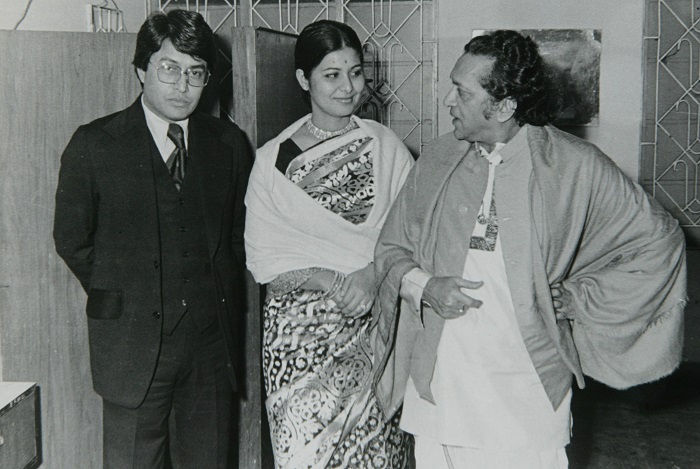 Image Credit:
http://www.dnaindia.com/lifestyle/report-of-temples-in-a-time-of-hate-2374199
International Collaborations and Concerts
Amjad Ali Khan received international acclaim when he composed for the 'Hong Kong Philharmonic Orchestra.' It was titled 'Tribute to Hong Kong'. The other musicians who were involved in this project included guitarist Charley Byrd, violinist Igor Frolov, Suprano Glenda Simpson, guitarist Barry Mason, and cellist Matthew Barley.
When American musician Carrie Newcomer decided to compose music based on spiritual stories, she collaborated with Amjad Ali Khan for her album 'Everything is Everywhere.' This album paved the way for many subsequent international concerts at several places, including the House of Commons, Carnegie Hall, Royal Festival Hall, Kennedy Center, Royal Albert Hall, Chicago Symphony Center, St. James Palace, Mozart Hall in Frankfurt, and the Opera House in Australia.
Citizen of the World
He has received honorary citizenship of several states of the USA, including Texas, Massachusetts, Tennessee, and the cities of Atlanta and Tulsa. Massachusetts even declared April 20th as 'Amjad Ali Khan Day' in the year 1984. This shows how much love Ustad Amjaz Ali Khan has received in the United States.
Contributions  
Amjad Ali Khan has made immense contribution to the field of classical music. He plays the Sarod using his finger nails instead of finger tips, which is one of his many experiments with the string instrument. This way of playing the instrument gives a clear ringing sound and is also the most difficult technique to apply on the Sarod. Nowadays, many Sarod players are implementing this technique, changing the way Sarod sounded for decades. Amjad, an innovative genius, has also composed many ragas of his own. Some of them include 'Kiran Ranjani,' 'Haripriya Kanada,' 'Shivanjali,' 'Shyam Shri,' 'Suhag Bhairav,' 'Lalit Dhwani,' 'Amiri Todi,' 'Jawahar Manjari,' and 'Bapukauns.'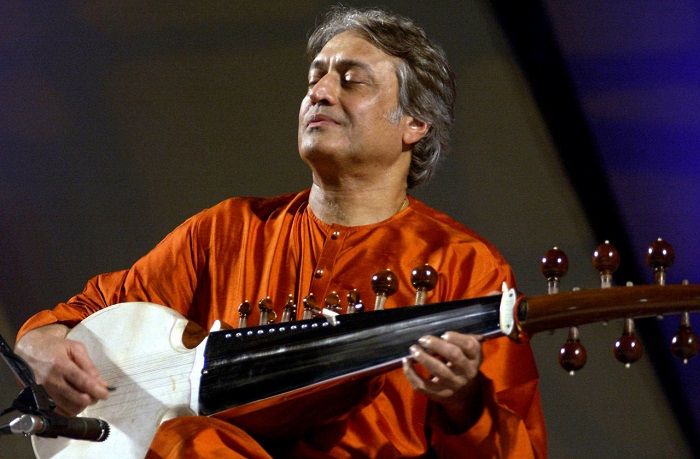 Image Credit:
https://themanjulablog.tumblr.com/
Awards
Amjad Ali Khan has received several national and international awards. Some of the important ones are listed below:
Padma Vibhushan – In 2001, Amjad Ali Khan was honoured with the Padma Vibhushan award. It is the second highest civilian award given by the government of India.
Padma Bhushan – He was honored with the country's third highest civilian award in the year 1991.
Padma Shri - Padma Shri, India's fourth highest civilian award was conferred on him in the year 1975, when he was just 30 years old.
Rajiv Gandhi National Sadbhavana Award – This award is given to citizens who make great contribution towards the promotion of national integration, peace and harmony. The 21st Sadbhavana Award was conferred on Amjad Ali Khan.
Sangeet Natak Akademi Award – This award, given to honor practicing artistes, was bestowed upon Amjad in 1989.
Sangeet Natak Akademi Fellowship – This is the highest honor given by the National Academy of Music, Dance & Drama. He was honoured with the award in 2011.
Fukuoka Asian Culture Prize – This award is given by a Japanese foundation to honor individuals who work towards creating or preserving Asian culture. He was given the award in 2004.
Banga Bibhushan Samman – Given by the government of West Bengal, Banga Bibhushan Samman was conferred on him in the year 2011. 
Tansen Samaroh – In the year 2001, Ustad Amjad Ali Khan became only the second recipient of this award, given by the government of Madhya Pradesh.
Lifetime Achievement Award – In 2012, he was honored with this prestigious award by the government of Delhi.
Books and Movie on Amjad Ali Khan
Two prominent books have been written on Ustad Amjad Ali Khan. The first book, 'World of Amjad Ali Khan,' was published in 1995, while the second book, 'Abba – God's greatest gift to us,' was penned by Amjad's sons, Amaan and Ayaan. This book was published in 2002.
A documentary film has also been made on his life. It was directed by the legendary lyricist and filmmaker Gulzar. It won a Filmfare Award in 1990.
Personal Life and Family
Amjad Ali Khan has always been a modern thinker and this quality reflects in his personal life too. When he was still young, he had a relationship with a woman older than him. She was a divorcee and had a child, but nothing, not even his parents' advice, could stop Amjad from this relationship. After eight years of relationship, Amjad finally gave in to his parents' wish and agreed to marry a girl of their choice. Soon the newly married couple was blessed with a daughter. His relationship with his wife deteriorated around the birth of the child, and the marriage eventually ended in divorce. 
In 1974, Amjad fell in love with Subhalakshmi Barua, a Bharatanatyam dancer. After a persuasion of almost six months, he convinced her to marry him. The musician-dancer couple eventually got married in 1976 and was blessed with two sons.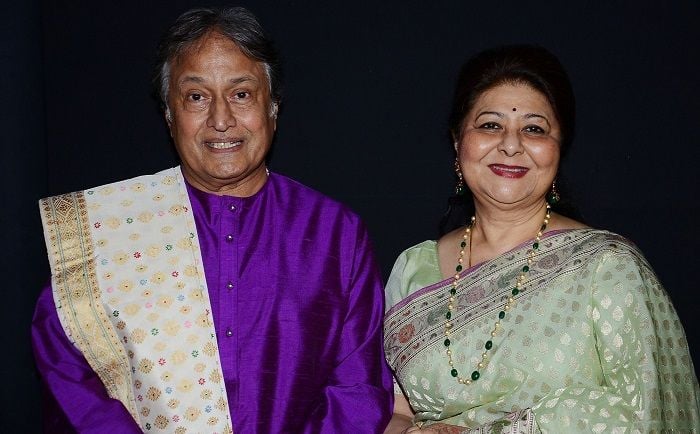 Image Credit:
https://www.pinterest.com/pin/568438784203242025/
Legacy
Amjad Ali Khan is the first North Indian artist to have performed in honor of Saint Thyagaraja at the Thiruvaiyur shrine in Tamil Nadu. Apart from many of his students, his sons, Amaan Ali Khan and Ayaan Ali Khan, are exceptional Sarod players. They are carrying forward the legacy of their father. They are the seventh generation Sarod players in their family. Amjad Ali Khan's ancestral home in Gwalior has been converted into a musical center. This musical center will not only ensure the continuation of Amjad Ali Khan's legacy but that of his ancestors as well.