Music has always been an important aspect in the lives of Indian people. India's rich cultural diversity has greatly contributed to various forms of folk music. Almost every region in India has its own folk music, which reflects the way of life. From the peppy bhangra of Punjab to Garba of Gujarat to Bhavageete of Karnataka, the tradition of folk music in India is indeed great. Folk music is closely associated with farming and other such professions and evolved to alleviate the hardship and break the monotony of the routine life. Even though folk music lost its popularity with the advent of contemporary music like pop and rap, but no traditional festival or celebration is complete without folk music.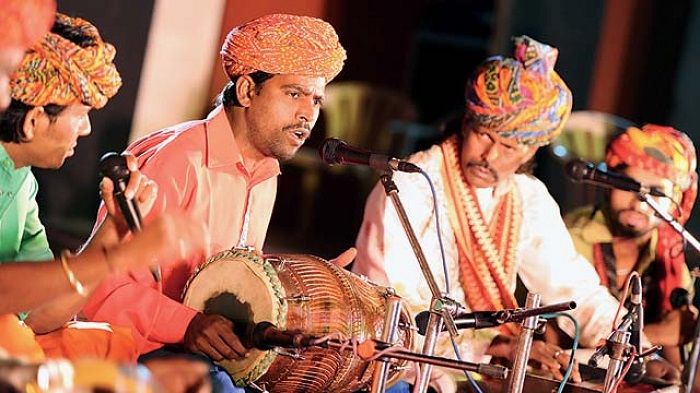 Image Credit:
http://www.dnaindia.com/jaipur/report-piracy-hitting-rajasthan-folk-music-industry-hard-2516424
History
Earliest records of Indian folk music are found in the Vedic literature, which dates back to 1500 BC. Some scholars and experts even suggest that the Indian folk music could be as old as the country itself. For instance, Pandavani, a folk music popular in most parts of Central India, is believed to be as old as the Hindu epic Mahabharata. This incredible claim is backed by the fact that the subject matter of Pandavani deals with the heroics of Bhima, a prominent character from Mahabharata. Since Pandavani's subject matter has remained the same over centuries, this age-old folk music could be as old as the Mahabharata itself! Later on, folk songs were extensively used for recreational purposes and to celebrate special events including weddings, birth of a child, festivals, etc. Folk songs were also used to pass on prominent information from one generation to another. This suggests that these songs could've played a major role before the arrival of paper in India. Since people did not have a solid material to preserve ancient information, passing down important information in the form of songs became utmost important. Hence folk songs were revered by aboriginal people as it not only provided entertainment, but also imparted critical information that could be used in one's day-to-day life.
Diversification of Indian Folk Music  
Like many other aspects of India, folk music too is diverse because of the cultural diversity. While the reason behind its origin and the method of usage remains more or less the same throughout India, the style in which it is sung and the way in which it is perceived differs depending upon the culture of different Indian states. Many of these folk songs were composed by great poets and writers belonging to different parts of the country. For instance, the Rabindra Sangeet or Tagore songs of Bengal are a collection of songs that were originally written by eminent poet Rabindranath Tagore. Folk songs also played a crucial role in socio-religious reforms in many parts of South India. Religious leaders like Adi Shankaracharya used many such songs to spread his message throughout the country. Similarly, folk songs sung by other religious leaders gave identity to the villages they originally came from and gradually, these songs were cherished and celebrated by the people of their respective areas as their own. Also, many folk songs are associated with a dance form, which is usually performed while singing these songs. Today, almost every Indian state/region has a folk song of its own and some of them are associated with a dance form as well. Mentioned below are folk music of various Indian states.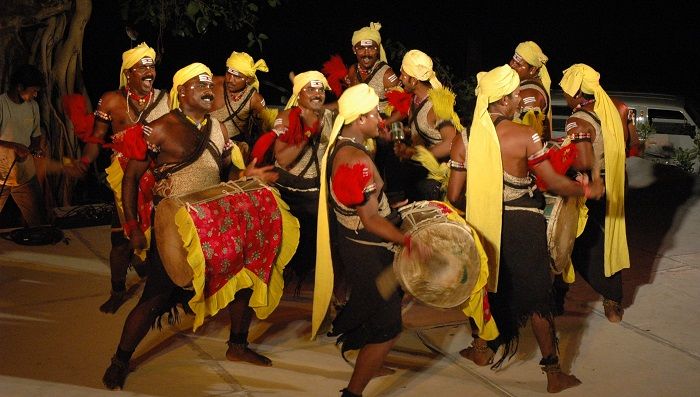 Image Credit:
http://blog.myhappyjourney.com/december-2014-festivals-in-india/
Bihugeet
This folk music is performed in Assam during the famous Bihu festival. The music is usually accompanied by a dance performance; it is performed thrice a year. Bihugeet is one of the most famous folk songs of Assam and is also popular across some parts of north-eastern India. The song is usually performed by young boys and girls and represents the joyous nature of the Assamese. Many stories are conveyed through Bihugeet and the themes often include nature, love, relationships, social messages and humorous stories. 
Uttarakhandi Music   
Uttarakhandi music is often performed during festivals and religious gatherings in the state of Uttarakhand. The songs usually convey the importance of nature, bravery of historical characters, stories and important cultural practices of the state. Musical instruments used include Masak Baja, Daur, Thali, Ransingha, Damoun, Dholki, Dhol, Bhankora, Harmonium and Tabla.
Lavani
Lavani is a popular folk music of Maharashtra and was originally performed to entertain the soldiers. The song is usually performed by womenfolk and it conveys information pertaining to society and politics. Lavani is further divided into two types – Nirguni Lavani and Shringari Lavani. While Nirguni Lavani is usually philosophical in nature, Shringari Lavani is sensual and often deals with erotic subject matter that often induces laughter among its listeners. This musical form is also classified based on its listeners. If Lavani is performed in close quarters by a young girl for a set of dignitaries, it is called Baithakichi Lavani. If it is performed in public in front of a large audience, it is called Phadachi Lavani.
Pandavani
As mentioned earlier, Pandavani is a folk song which narrates the heroics of characters from the Mahabharata. This folk music is popular in Chhattisgarh, Orissa, Madhya Pradesh and Andhra Pradesh. Though this age-old musical form is largely neglected by young music lovers of today, it is still being kept alive by performers like Teejan Bai, Jhaduram Devangan, Ritu Verma, Usha Barle and Shantibai Chelak. While Tambura is largely used as an accompanying musical instrument, it is also used as a prop to explain different characters from the Mahabharata. For instance, the performer often places the Tambura on their shoulder while narrating the bravery of Bhima. While doing so, the Tambura represents Bhima's mace. Other musical instruments used are Manjira, Harmonium, Dholak and Tabla.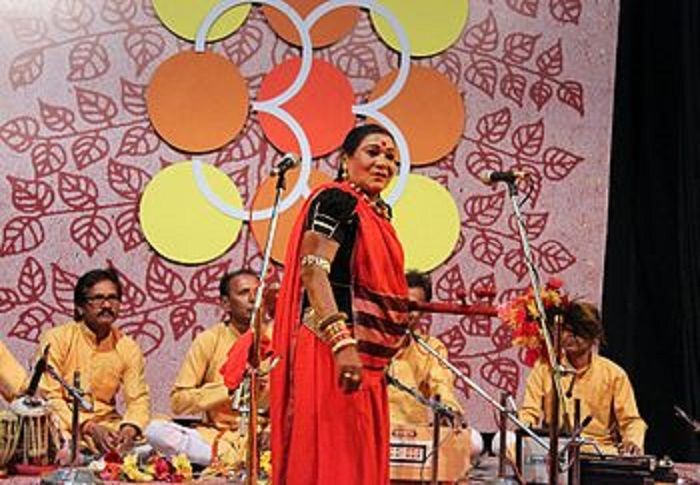 Image Credit:
https://hi.wikipedia.org
Rabindra Sangeet
Also known as Tagore Songs, Rabindra Sangeet is a set of folk songs, written and composed by eminent poet Rabindranath Tagore. Tagore wrote over 2,230 songs during his lifetime, all of which are sung during festivals and other rituals in West Bengal. The topics dealt in these songs include modernism, humanism, structuralism, reflection, romance, introspection, psychology, nostalgia, yearning, etc. Tagore's songs are well-preserved in the form of a book titled 'Gitabitan'. The book is divided into seven major parts – worship, seasons, love, occasion-specific, patriotism, lyrical plays and other subjects.  Some of the renowned singers of Rabindra Sangeet are Kamal Ahmed, Amiya Tagore, Hemanta Kumar Mukhopadhyay, Shayan Chowdhury Arnob, Mohan Singh Khangura, Malati Ghosal, K. L. Saigal and Kabir Suman. 
Bhatiali
Bhatiali was sung by the fishermen of ancient Bengal. It is said that this musical form was used by the oarsmen and fishermen of Bengal to keep themselves entertained when they didn't have to row their boats with all their might. Nirmalendu Chowdhury is one of the best exponents of this ancient musical form.
Music of the Bauls
During the 18th and 19th century, a set of musicians from Bengal came to be known as the Bauls. The music employed by them was often religious in nature and some were influenced by the tantric sect of the Kartabhajas. Bauls travelled throughout the country in search of the eternal truth. During their extensive travel, they sang many folk songs which later on came to be known as the music of the Bauls. Instruments used while singing these songs are Ektara, Khamak and Dotara.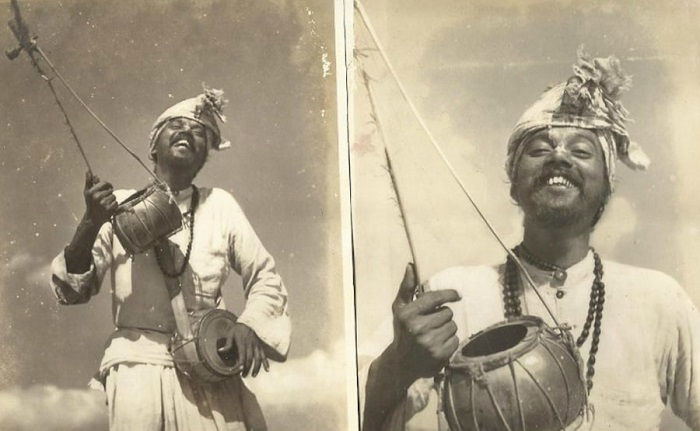 Image Credit:
http://lineagebaul.blogspot.in/
Bhavageete    
Bhavageete is one of the most important folk music of Karnataka. Bhavageete literally means music of expression and hence, the singer's expressions constitute the most important aspect of this form of music. The subject matter of this musical form deals with nature, love, philosophy, etc. Though Bhavageete is an ancient musical form, contemporary musicians and singers have revived it by incorporating the poems written by eminent Kannada writers and poets. Present day Bhavageete draws its lyrics from the poems written by poets like Kuvempu, K.S. Narasimhaswamy, Gopalakrishna Adiga, D.R. Bendre, G.S. Shivarudrappa, N S Lakshminarayana Bhatta, K. S. Nissar Ahmed, etc. This age-old musical form is still kept alive, thanks to performers like Raju Ananthaswamy, Mysore Ananthaswamy, Shimoga Subbanna, C. Aswath, P. Kalinga Rao and Archana Udupa.  
Naatupura Paadalgal
Naatupura Paadalgal is an ancient musical form of Tamil Nadu. Though folk music is fast disappearing in the state of Tamil Nadu due to the prominence given to Carnatic music, Naatupura Paadalgal remains quite important in the state. Like many folk songs of India, this folk music too was used by the aboriginal people during the farming and harvesting season. Hence Naatupura Paadalgal eventually became a way of life to many living in the state. Even today, this musical form can be heard in every nook and corner of Tamil Nadu. The importance of Naatupura Paadalgal was stated by eminent musician maestro Ilaiyaraaja. He went on to say that Naatupura Paadalgal was the inspiration behind his musical journey as he grew up listening to this very folk music, sung to him by his mother.
Kummi Paatu  
Kummi Paatu is yet another folk music form from Tamil Nadu. These folk songs are usually accompanied by a folk dance form known as Kummi or Kummi Aattam. It is often performed throughout Tamil Nadu during festivals and rituals.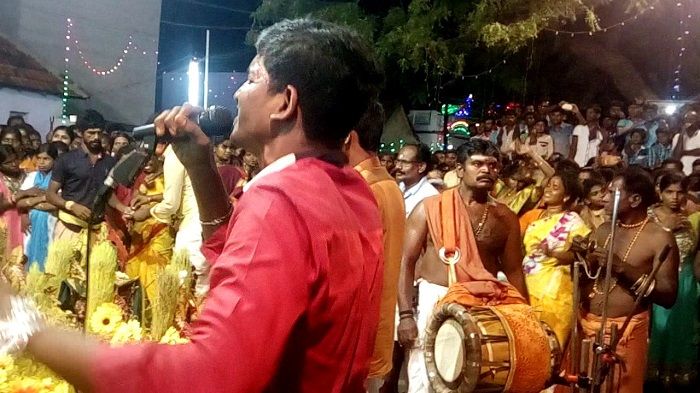 Image Credit:
YouTube.com
Indian Folk Music at a Glance:
State

Folk Music Forms

Instruments Used

Prominence

Jammu & Kashmir

Hafiz Nagma

Tabla, Santoor, Sitar, Wasool, and Kashmiri Saz

Based on the classical music form 'Sofiyiana Kalam,' 'Hafiz Nagma' was introduced in the Mughal era and has been a popular art form ever since.

Surma

Various instruments like Flute, Pump Organ, Tabla and other percussion instruments

Sung in Dogri language, 'Surma' narrates the anxiety of a woman, whose husband serves in the Army.

Ladishah

Dhukar - a crude instrument, comprising of a metal rod with iron rings

A satirical form of singing, 'Ladishah' narrates the social and political conditions of the state.

Chakri

Harmonium, Sarangi, Rubab

Chakri is one of the most important folk music of the state. As it narrates famous love stories, it is often sung at weddings.

Himachal Pradesh

Jhoori

No instruments used

A satirical form of singing, associated with extra-marital relations. The songs are often accompanied by dance performances.

Ainchaliyan

 No instruments

A type of religious songs often sung to a newly wed bride or to an unmarried girl, who is expected to get married in near future.

Uttar Pradesh

Rasiya

Kettle Drums, Dholak, Harmonium, and Cymbals

These songs narrate the love stories of Radha and Krishna.

Birha

Harmonium, Dholak, Cymbals

Themes used in these folk songs often revolve around the separation of lovers.

Kajari

Sitar, Sarod, Veena, Bansuri, Santoor, and percussion instruments

These songs are used to describe a woman's longing for her lover.

Qawwali

Bulbul Tarang, Harmonium, Sarangi, Tabla

A form of Sufi music often sung for devotional purposes.

Punjab

Tappa

Tabla, Dholak, and wind instruments

Originated from the folk songs of ancient Punjab, 'Tappa' often depicts the plight of a lover.

Bhangra

Dhol, Tumbi, Dholak, Sarangi, Flute, Harmonium, Tabla

Bhangra is the most popular folk music of Punjab. It is also one of the oldest forms of music in India. The music is often accompanied by the famous Bhangra dance.

Jugni

Wind instruments, dholak, cymbals

Jugni is an ancient form of folk music, which is often used in Punjabi weddings.

Uttarakhand

Jhoda

Various types of percussion instruments

The songs are usually sung by two groups of people and is often accompanied by a group dance involving men and women

 

Thadya

Dhol, Thali, Tabla and Harmonium

One of the most important music forms of Uttarakhand, 'Thadya' was originally performed in royal courts.
Arunachal Pradesh

Ja-Jin-Ja

Sarangi, Bansuri, Dholak and other percussion instruments

This is a form of folk music that is sung by a group of singers, comprising of both men and the women folk.

Baryi

Sarangi, Bansuri, and various percussion instruments

Often sung during special occasions and festivals, 'Baryi' narrates mythological stories and the state's rich history. 

Nyioga

Drums, cymbals

Sung during weddings, Nyioga is one of the popular folk music of Arunachal Pradesh.

Rajasthan

Maand

Sarangi and percussion instruments

Maand is a popular form of folk music, which sounds similar to 'Thumri' or 'Ghazal.'

Pabuji Ki Phach

Ravanahatha and percussion instruments

'Pabuji Ki Phach' honors Pabuji, who was a historical hero of the Bhopa community. It also narrates the splendor and tradition of Rajasthan.

Panihari

String and percussion instruments

Developed by the women folk of Rajasthan, 'Panihari' narrates the importance of water.

Bihar

Sohar

Dholak, Bansuri

Performed mainly by the women folk, 'Sohar' is usually sung during childbirth

Sumangali

Tabla, Harmonium

Performed in groups during weddings. It is believed that these folk songs have a positive impact on the groom.

Sikkim

Gha To Kito

Cymbals and various kinds of drums

Often accompanied by dance performances, 'Gha To Kito' describes the natural beauty of the state.

Lu Khangthamo

Percussion instruments and cymbals

Performed by the young and old folks, 'Lu Khangthamo' is basically a thanksgiving song.

Manipur

Khubakeshei

No instruments

Sung by a group of people, 'Khubakeshei' is a type of devotional folk music.

Jharkhand

Domkach

Sarangi and percussion instruments

Often accompanied by a dance performance, 'Domkach' is one of the most popular music forms of Jharkhand.

Jhumar

Dhol, Madaal, Cymbals, Flute, Tulia, Harmonium

Like many other folk songs of Jharkhand, Jhumar too, is always accompanied by a dance performance.

Gujarat

Bhajan

String instruments

A form of devotional music, which is sung to seek the blessings of gods and goddesses.

Garba

Dhol, Harmonium, Drums

'Garba' songs were introduced in order to accompany the famous dance form of the same name.

Dandiya

Dhol, Dholak, Tabla

Much like 'Garba,' 'Dandiya' songs are usually used as an accompaniment to the popular dance form, 'Dandiya Raas,' which is performed during festivals.
Goa

Banvarh

Dhol, Shehnai

Sung in funerals, 'Banvarh' is a song used to mourn the death of the loved ones.

Deknni

Ghumat, Cymbal, Samael

Often accompanied by dance performances, 'Deknni' is a popular art form in Goa.

Fughri

Percussion instruments

Performed during religious occasions, 'Fughri' is often accompanied by dance performances.

 

Mando

guitars, violins and ghumot

Evolved during the late 19th and early 20th centuries, this music form was influenced by the western music.

Andhra Pradesh & Telangana

Madiga Dappu

Dappu, a type of percussion instrument

Performed by an artisan group called 'Madiga,' this music form is used during various occasions.

Oggu Katha

Jaggu, Thalam, Dolu

'Oggu Katha' narrates the mythological tales of gods and goddesses.

Suvvi paatalu

Percussion instruments

These songs are usually performed by the women folk. The songs are in the form of question and answers, and are performed in groups.

Karnataka

Jaanapada Geethe

Wind instruments and percussions

A collection of folk songs that narrate the everyday lives of the people.