Fast Facts
Date of Birth: April 7, 1920
Place of Birth: Varanasi
Birth Name: Rabindra Shankar Chowdhury
Date of Death: 11 December 2012
Place of Death: San Diego, California
Profession: Sitar player, composer, singer
Spouses: Annapurna Devi, Sukanya Rajan
Children: Shubhendra Shankar, Anoushka Shankar
Father: Shyam Shankar Chowdhury
Mother: Hemangini Devi
Siblings: Uday Shankar, Rajendra Shankar, Debendra Shankar, Bhupendra Shankar
Awards: Bharat Ratna, Padma Vibhushan, Padma Bhushan, Grammy Award
Pandit Ravi Shankar was an Indian musician and composer, best known for popularizing the Indian classical instrument Sitar all over the world. Shankar grew up studying music and toured as a member of his brother's dance troupe. After serving as the director of All-India Radio, he began to tour India and the United States. In the process, he collaborated with many notable musicians, including George Harrison and Philip Glass. He even collaborated with the famous band 'The Beatles', popularizing Sitar to a greater extent. Honored with three highest Indian civilian awards, Shankar passed away in California on December 2012, at the age of 92.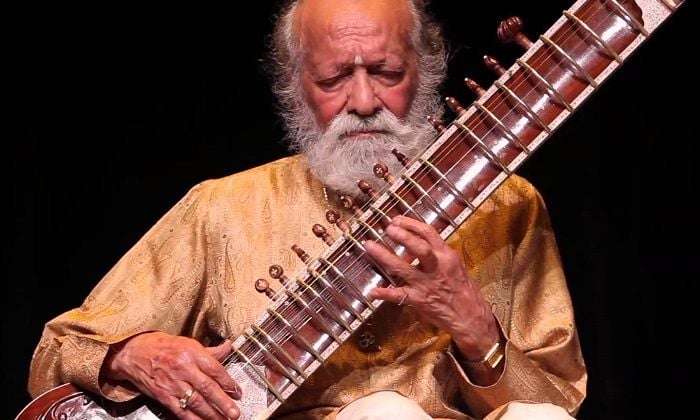 Image Credit:
YouTube.com
Childhood
Ravi Shankar was born into a Bengali family. His father Shyam Shankar Chowdhury left to London to work as a lawyer after serving as a local barrister under the British. Young Ravi Shankar was raised by his mother and had not met his father until he was eight years old. In 1930, he moved to Paris to be part of a musical troupe and later joined his brother, Uday Shankar's dance troupe. He toured with the troupe from the age of 10, and gave many memorable performances as a dancer.
Ravi Shankar & Sitar
Ravi Shankar was introduced to Sitar much later in his life when he was 18 years old. It all began at a concert in Kolkata where he heard Amiya Kanti Bhattacharya play the classical instrument. Moved by the performance, Shankar decided that he too, must learn Sitar under Bhattacharya's guru, Ustad Inayat Khan. This is how Sitar came into his life and remained with him until he breathed his last.
Early Career and Association with AIR
After having learnt to play Sitar under his Guru, Ustad Inayat Khan, he went to Mumbai, where he worked for the Indian People's Theatre Association. There he started composing music for ballets until 1946. He then went on to become the director of New Delhi radio station All-India Radio (AIR), a position he held until 1956. During his time at the AIR, Shankar composed pieces for orchestra that mixed Sitar and other Indian instruments with classical Western instrumentation. Also during this period, he began performing and writing music with American-born violinist Yehudi Menuhin.
Discography
Ravi Shankar has a long list of albums to his credit. Following are some of his best sellers:
Three Ragas – Released in the year 1956, 'Three Ragas' was his first LP album. It was re-released in the digital format by Angel Records in the year 2000.
Tana Mana – This album was originally credited to 'The Ravi Shankar Project' and was released in 1987. 'Tana Mana' was an experimental work by the Pandit, who mixed traditional instrumentation with electronic music of the 80s.
Farewell, My Friend – When Shankar heard about Satyajit Ray's death, he spontaneously composed this album. It was subsequently recorded and released by HMV.
The Sounds of India – Originally released in 1968 as a LP album, 'The Sounds of India' was digitally re-released in CD format in 1989.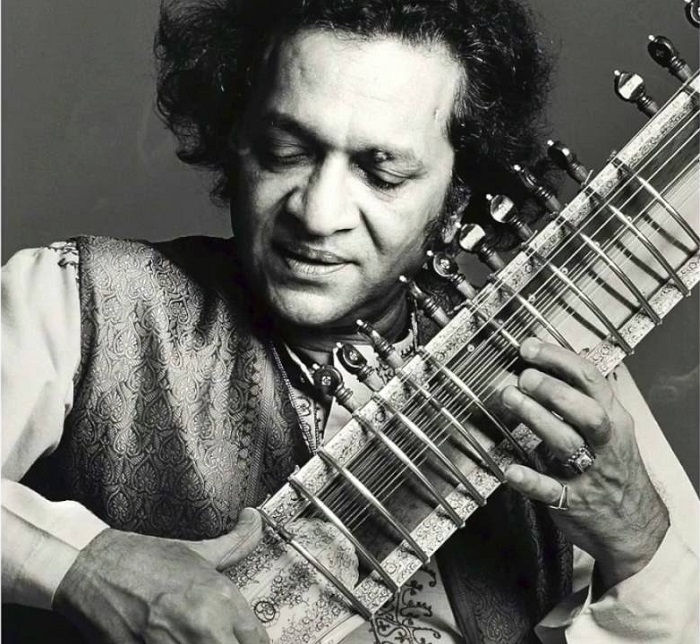 Image Credit:
YouTube.com
Association with George Harrison
In June 1966, George Harrison, member of the famous band Beatles, met Ravi Shankar in London. Harrison befriended him and began to take Sitar lessons from the Pandit himself. The association immediately brought Shankar and Indian music unprecedented popularity in the West. Harrison's introduction of the Sitar into the Beatles, gave rise to a new genre of music known as raga rock. He later started working as Ravi Shankar's producer. Harrison addressed him as "The Godfather of World Music". Twenty three years older than Harrison, Shankar described their relationship as that of father and a son.
Concert for Bangladesh
In 1971, Bangladesh became a hotbed of armed conflict between the Indian and Muslim Pakistani forces. Along with the issues of violence, the country was inundated with ferocious flooding. Seeing the famine and hardship faced by the country's civilians, Shankar and Harrison organized the Concert for Bangladesh. It took place at the Madison Square Garden on August 1 and featured performers such as Bob Dylan and Eric Clapton. Proceeds from the show, which is largely considered to be the first major modern charity concert, went to the aid organization UNICEF to help Bangladeshi refugees. Additionally, the recordings made by the performing artists won the 1973 Grammy Award under the category, album of the year.
Mainstream Success
In 1954, Ravi Shankar gave a recital in the Soviet Union. In 1956, he debuted in the United States and Western Europe. Also helping his popularity was the score he wrote for the famous Indian film director, Satyajit Ray. Already an ambassador of Indian music to the Western world, Shankar embraced this role to a much larger extent in the 1960s. That decade saw Shankar's performance at the Monterey Pop Festival, which further elevated his fame.
The Difficult Phase
His association with the Beatles led to accusations that he was a hippie who promoted drug use. In fact, Shankar was intensely critical of the Marijuana addicts. Despite his affection for Harrison, it proved a difficult period for Shankar, who wasn't keen on the rock music scene. During the 1970s he distanced himself from his hippie associations and began to refocus on cementing his status as a classical Indian musician, but his friendship with Harrison endured.
Political Career
For his great contribution to Indian music, he was nominated to the Rajya Sabha by the then Indian Prime Minister Rajiv Gandhi. He served as a member of the Upper House of the Indian Parliament from 12 May 1986 to 11 May 1992.
Recomposing 'Saare Jahan Se Accha'
The song 'Saare Jahan Se Acchha' was set to tune by Ravi Shankar. Written by Muhammad Iqbal in 1904, it had a more drawn-out tune until Shankar was asked to reset it in 1945. Many are unaware of this, including HMV, which attributes the tune as "traditional" in an album featuring patriotic songs sung by Lata Mangeshkar.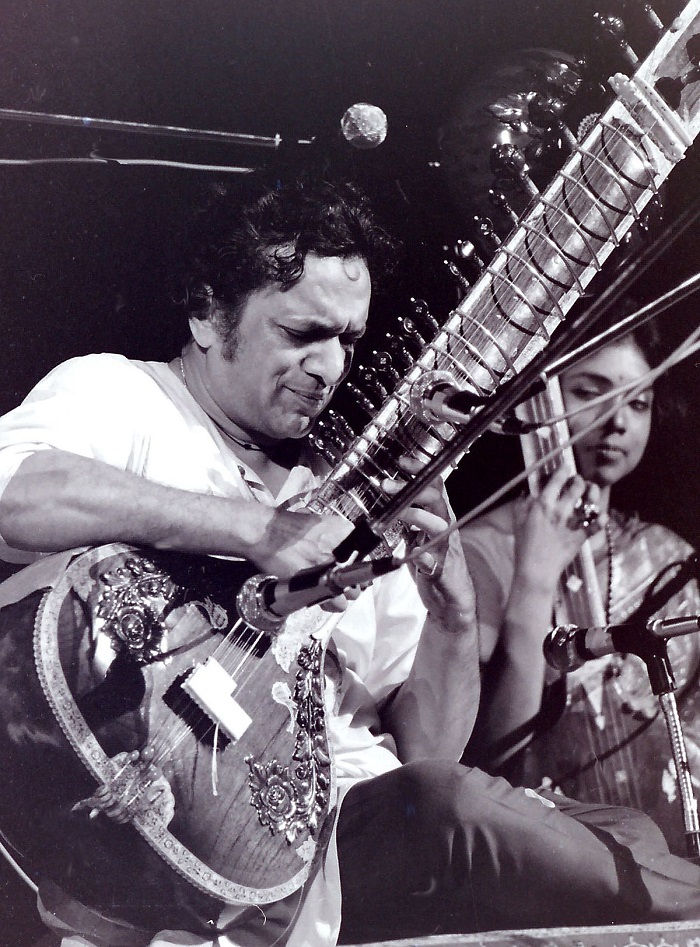 Image Source: Wikipedia.org
Criticisms
Throughout his career, Shankar received criticism for not being a classical purist from some famous Indian traditionalists. But Ravi Shankar tackled all the criticism gracefully and kept moving ahead on his musical journey.
Awards and Honors
Sangeet Natak Akademi Award – In 1962, he as honoured with the Sangeet Natak Akademi Award, given by India's National Academy of Music, Dance & Drama.
Sangeet Natak Akademi Fellowship – This is the highest honor given away by the same organization. He won this award in the year 1975.
Padma Bhushan – In 1967, Ravi Shankar was honored with India's third highest civilian award.
Padma Vibhushan - Padma Vibhushan, India's second highest civilian award, was given to him in the year 1981.
Bharat Ratna – In 1999, the Sitar maestro was honored with the country's highest civilian award.
Grammy Award – Ravi Shankar won five Grammy Awards in his lifetime. In 1967, his collaborative album with Yehudi Menuhin won a Grammy under Best Chamber Music Performance. In 1973, the 'Concert for Bangladesh' won the Album of the year award. In 2002, his album, 'Full Circle: Carnegie Hall 2000' won the Best World Music Album award and in 2013, 'The Living Room Sessions' once again bagged an award under the category Best World Music Album.
Lifetime Achievement Award – He was honoured with this prestigious award at the 55th Annual Grammy Awards.
Personal Life
Ravi Shankar married Annapurna Devi in 1941. In the subsequent year, their son and Ravi Shankar's first child, Shubhendra Shankar, was born. During the late 1940s, Ravi Shankar had an affair with a dancer named Kamala Shastri and this proved fatal to his marriage which eventually ended. In 1981, he broke his relationship with Kamala Shastri and started an affair with Sue Jones, a concert producer from New York. This relationship too ended in 1986. He then went on to marry Sukanya Rajan. His daughter, Anoushka Shankar, was born in 1981 out of this union. 
In the year 1992, Ravi Shankar's son Shubhendra Shankar died of pneumonia. Post his son's death, Ravi Shankar became more spiritual and in his later years, gave up on non-veg food.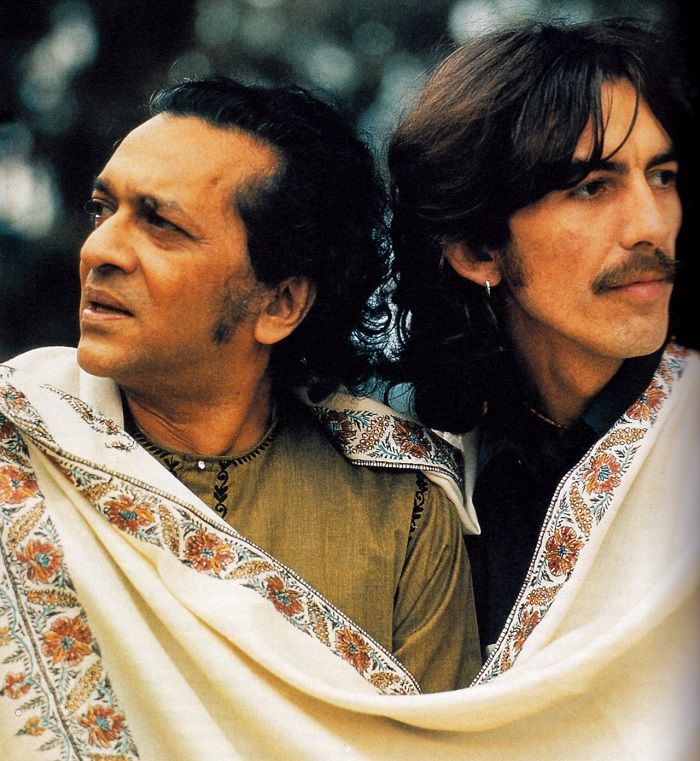 Image Credit:
https://www.pinterest.com/pin/490329478150271596/
Death and Legacy
Ravi Shankar died on December 11, 2012 in San Diego, California, at the age of 92. The musician had reportedly suffered from upper respiratory and heart ailments and had undergone surgery to replace a heart valve in the days leading up to his death. His last performance was with his daughter at the Terrace Theater in California. His daughter, Anoushka Shankar, is also a Sitar player and composer. The legacy of Ravi Shankar is now being carried forward by this talented musician.