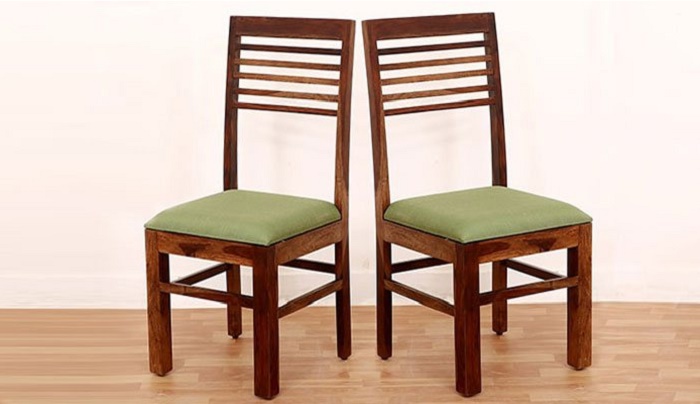 Image Credit: https://www.woodenstreet.com/chairs
A chair is usually a raised surface, which is meant for a single person to sit on. The raised surface which serves the sitting purpose is raised with the help of four legs. It can be made of any material like steel or wood and can be of any shape like with four legs or three legs and with back rest or without a back rest. It has been into existence for thousands of years and it is still an essential piece of furniture used by many all around the world. If the chairs are made in such a way that more than one person can sit, then it is called as a bench, couch or sofa.
Handcrafted Wooden Chairs
Wooden chairs are robust and can be made from any type of wood. A perfectly carved chair gives a posh and noble look to a room. The traditionally carved wooden chairs are still in existence. Wooden chairs are made out of woods like cheery and mahogany and are painted or stained. They make the atmosphere very conservative and chairs made from light wood with soft colors makes the room really informal and at times rustic.
Types of Wooden Chairs
Chairs usually serve different purposes.
Wooden Folding Chair
Wooden Folding chairs have been a status symbol in homes for centuries and people have considered them as treasured possessions. A folding wooden chair is very easy to store as well as transport. One can move the sitting chair to the lounge or to the garden to spend their leisure time comfortably. These chairs are heavily built and are made of high quality wood.
Wooden Office Chairs
Wooden office chairs are a symbol of comfort, style and status. Today's office chairs made of wood are in high demand. These chairs are usually handcrafted and so the shape, size and finishing varies from one to another. These chairs are at times attached to a cushion seating. Shisham, rose, mango, etc. are the kinds of woods used for making office chairs. These chairs can also be made with adjustable arms and heights. These chairs provide comfort to people who are glued to their seat for hours.
Wooden Beach Chairs
Wooden beach chairs are useful for an outing to the beach. These chairs are portable and very durable. They are designed specially by ingenious craftsmen which gives the user comfort. These chairs are almost similar to wooden folding chairs but little smaller in stature and shape. Wooden chairs remain cool under the sun and these chairs are available in various attractive colors like green, blue, teal, navy, yellow, orange, beige, black, red, etc. These chairs can be placed outside in your backyard pool or patio.
Wooden Rocking Chairs
Rocking chairs or "rockers" are chairs made of wood mounted on curved rockers. These chairs look very comfortable and can be swayed back and forth. These have to be kept on platforms so that nothing would be crushed under the rockers. Wooden rocking chairs either plain without any designs or carved highlight the whole look of the room.
Wooden Lounge Chairs
Wooden lounge chairs are one of the most fashionable pieces of furniture. These chairs are suitable for reception areas and lounges. Wooden lounge chairs are very traditional yet modern in looks. These chairs are custom designed mainly for relaxing, yet people use it for watching television, reading, etc. Wooden lounge chairs are made of walnut wood, bamboo, Shisham, oak, teak, etc. These chairs are considered exquisite by people for their attractive looks and colors.
Wooden High Chairs
These chairs are exclusive kid's furniture. Wooden high chairs are used for feeding babies and as study chairs. These chairs have a wider base with arms on the sides so as to give proper stability for children to sit on. The heights of these chairs can be adjusted with the help of a lever provided.