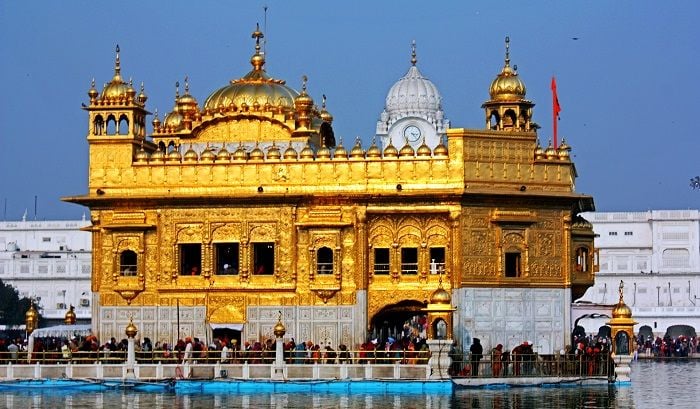 Image Credit: http://www.legendsandpalaces.com/the-golden-temple/
The Golden Temple or "Darbar Sahib" at Amritsar is the most sacred place for the Sikhs. The Golden temple symbolizes the magnificence of the Sikhs all over the world. The Golden Temple also known as Harmandir Sahib is an example of the spirit of tolerance and acceptance that the Sikh philosophy propounds. In the architecture of the Golden temple are included symbols associated with places of worship of other religions. The Sikhs and people of other religions pay visit to Amritsar and to pay obeisance at Sri Harmandir Sahib. 
Guru Arjan Singh got the foundation of the Golden temple laid by a Sufi saint Mian Mir of Lahore in December, 1588. The construction work was directly supervised by Guru Arjan Sahib himself. Sri Harmandir Sahib is built on a 67ft. square platform in the centre of a Sarovar (tank). The Golden temple has entrance from all the four sides and is accessible to every person without any distinction of Caste, creed, sex and religion. There is a 13 ft circumambulatory path around the main shrine. It was mainly in the nineteenth century, during the reign of Maharaja Ranjit Singh, that the people lavished their wealth on the Golden temple. 
The Guru Granth Sahib, the holy book of the Sikhs, was installed in the Harmandir Sahib in 1604. The location of the Granth Sahib here, adds to the sanctity and veneration of the Harmandir Sahib. Here lies the spirit and soul of Sikhism. This symbol of abiding faith and tolerance is held in high esteem by every Sikh. The Golden temple is the place which every Sikh dreams of visiting. Golden Temple tour is a must for the Sikhs coming to India.