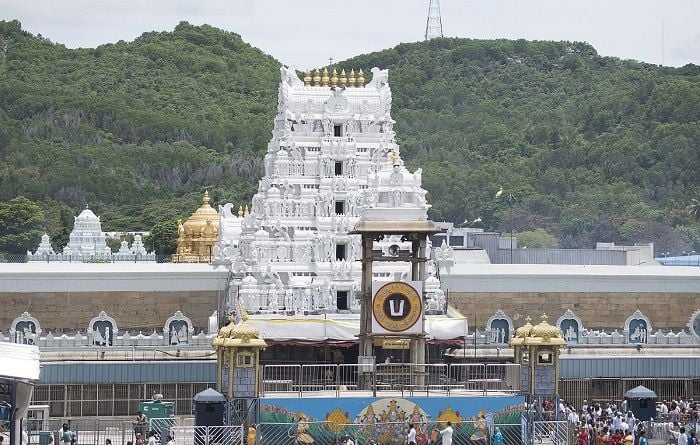 Image Credit : https://en.wikipedia.org/wiki/Venkateswara_Temple,_Tirumala
Located in a small district called Chittoor in southern Andhra Pradesh, is the famous Tirupati Balaji Temple of India. This temple is supposed to be the richest temple in India. After the Vatican, Tirumala Tirupati pilgrimage is the most visited shrine in the world. This temple is dedicated to Lord Venkateswara and thus is also known as Sri Venkateswara Temple. The name Tirupati Balaji actually means "Lord of Goddess Lakshmi". A tour to South India is incomplete if you don't visit Tirupati Balaji Temple. 
The pilgrimage is the richest temple in India and is visited by high profile celebrities as well as the poorest of all. The temple is located on a series of seven hills, which are located at a height of 853 meters above sea level. The temple has a vibrant charitable and cultural heritage. The institution that manages the temple as well as other educational institutions run by the same name is called Tirumala Tirupati Devasthanam. Most devotees who come here have their heads shaved as it is considered very auspicious. 
The architecture of the temple is very grand and the style is predominantly Dravidian. The dome shaped roof over the main sanctorum is entirely covered with gold. It is known as "Ananda Nilayam". There are three "Prakarams" (enclosures) in the shrine. The annual festival of the temple is known as "Brahmotsavam", which is celebrated grandly on a huge scale for nine continuous days during the month of September. Thousands of devotees gather to take part in the festival and seek blessings of the almighty.