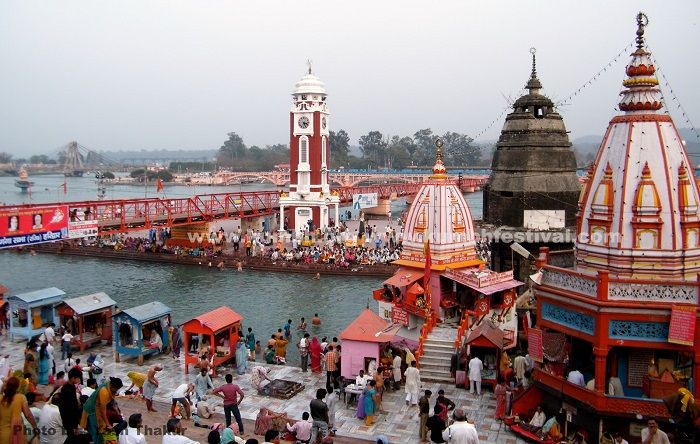 Image Credit : http://dekhomyindia.com/best-destinations/allahabad/
Prayag, where river Ganga and Yamuna meet, is one of the ancient pilgrimage centers of India. Prayag is situated in Allahabad. Prayag is venerated in the hymns of the Rig Veda. According to the Hindu mythology the region between the Ganga and the Yamuna is the most fertile region on earth. Prayag is also referred to as Triveni Sangam- the confluence of the subterranean river Saraswati, Ganga and Yamuna. The name Allahabad (the city of God) was given to Prayag by the Mughal Emperor, Akbar. 
According to legends Prayag remains intact at the time of the great deluge and Vishnu resides here as a Yoga Murthy, on a banyan leaf in the form of a child. Vishnu is referred to as Veni Mahadeva, and Shiva is believed to be personified here as the immortal banyan tree or the Akshaya Vata Vriksham. Prayag is also associated with Amrit (nectar of immortality). 
Legends have it that Jupiter picked up the pot of the celestial nectar as it emerged from the milky ocean and made off with it (to prevent the demons from having access to it). The infuriated demons chased him and in the course of the chase the pot (Kumbh) overflowed and the nectar fell into four different places on earth, corresponding to Prayag, Nashik, Ujjain and Haridwar (all these four places are sites of Kumbh Mela). 
The Hindu pilgrims make offerings to the departed souls at Prayag. Bathing at the confluence of the three rivers - Triveni Sangam is considered sacred in the Hindu month of Magha - especially on Makara Sankranti, Ratha Saptami, the full moon and the new moon day. Prayag is also the seat of Kumbh Mela celebrations once in twelve years when the planet Jupiter resides in the zodiac sign of Taurus. Kumbh Mela is also held at Nashik, Ujjain and Haridwar.